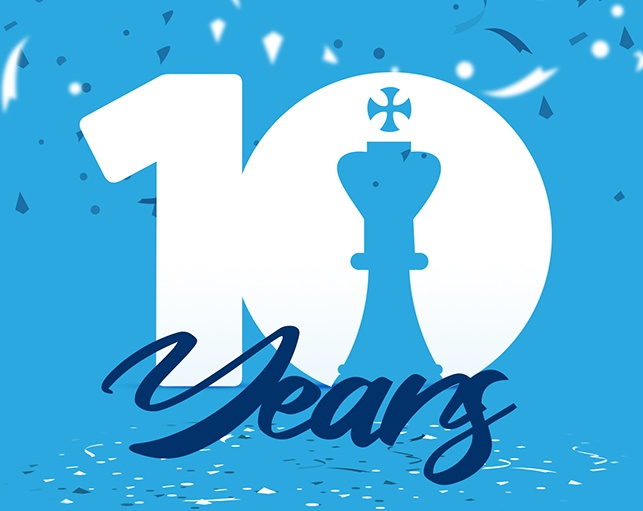 Entrepreneurship is the word that defines Echez' reason for being, it is the heart that has driven it for 10 years. Every project has a beginning and that is why today we want to share with you this story of which you are part of.
Have you ever wondered how this Colombian company has achieved distant horizons? It is largely, due to the perseverance and desires of overcoming of Edwin Sánchez, the founder and CEO of Echez, who at a young age was motivated to be independent and to dream of a better future for his life. Such an ideal, today has crossed borders allowing him to venture into issues such as digital transformation and take them to various places in the world. It should also be noted that this initiative could be a reality thanks to the talent and commitment of many of its employees.
Everything goes back to March 2010, at that time Edwin Sánchez, an innate entrepreneur, takes the initiative to create his own company. Based on the extensive knowledge obtained through years of working for different technology companies and the extensive experience acquired in negotiation issues, he decides to bet on what for him today, is a dream come true: "It is a decision that Build in the heart when you intend to do something, it is not suddenly getting up and saying I am going to create a company, it is a feeling, a necessity and you must work on it, "says Edwin Sánchez.
More specifically, the idea was born when conducting a marketing analysis, which made evident a need that others had not noticed: Identify that both the software producing companies and their customers lacked from effective communication between them and this caused them countless problems. "I said: I will be the company that is in the middle, as a bridge between brand and customer so that both can work efficiently on the software that is distributed," says Edwin S. As noted, the analysis set the tone for the creation of Echez.
Once the concept has been formed and after it has been launched, challenges have arisen that the company has had to face. Among the most important, we can mention:
Brand recognition and consolidation.
Maintenance of cohesion, philosophy and business culture during periods of accelerated growth.
Providing cutting-edge technology to deliver the best service.
Maintenance of the quality level required by customers with high standards and demands in the market.
In turn, the achievements have also become evident. Among the most prominent:
Worldwide presence in 43 countries, provision of services in more than 18 languages ​​and advice from 600,000 companies on issues of intellectual property and efficiency in the use of software.
Worldwide reach as a Colombo-American company.
Echez' potential and prestige in technology, security and digital transformation issues worldwide.
Consolidation as a company with a clear, competitive image that promotes values ​​such as respect for the employee.
How has Echez managed to cross borders?
Establishing replicable and scalable models.
Having trained personnel to adapt quickly to evolution.
Adopting processes and technologies of international scope.
Optimizing the human and economic resources to achieve quality in the processes.
Developing multicultural interaction capacity.
Ensuring commitment and honesty in what is done and offered.
So, today when we turn 10 years with a solid portfolio, aimed at creating positive disruption in technology producing and selling organizations, we can provide our customers with a great competitive advantage in the market.
Echez is currently no longer just a company, today it is a group consisting of 5 business lines: Echez / CPK, Virtuxplorer, rational7, Cyclopex and Web Services, all oriented to be a bridge between the one that produces and distributes technology and the one that consumes it to solve business problems.
For those who know Edwin Sánchez, it is no secret that faith and family are pillars that have given great support to his professional life. This is how his expectations within 10 years are to lead Echez to a frank development of new technologies, preserving corporate values ​​and faith as an exercise in spirituality; creating a balance with employees. It is his intention to let them know that Echez is a milestone in their lives, not only for representing a job opportunity, but also by highlighting the importance of human development and the joy in which they must live constantly, even in times of challenge.
"I thank everyone who has placed their trust in Echez, because such trust has been crucial for our company to move forward and get where we are today. In 10 years, there have been great successes and the mistakes have not been missing. So, if at some point we have we have not been up to it, we look forward to a new opportunity to prove that any mistake has been an input to propitiate our evolution and through it improve what we can provide. Our company remains oriented to the delivery of results, maintaining high quality standards. I thank all the employees who have been part of this story.

I am aware that we have something in our hands that is creating disruption in our clients.  I invite all those who are part of Echez to live with me this pleasant experience of reaching customers and surprising them, providing value with our services in technology, processes and human talent. I also encourage customers to let us surprise them, co-create with us and take an effective growth and development strategy in the markets they want to reach.

All accompanied, in my case, by God, my family and an exercise in happiness."
Edwin Sánchez, founder and CEO of Echez Group